About Us
New Dorking Cantonese is a Cantonese takeaway in Surrey. Why don't you try our Crab Meat & Sweetcorn Soup or Singapore Fried Rice?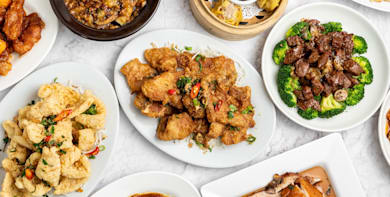 Reviews
112 reviews
David
"1st and last time ordering. No free prawn crackers with a £40 order, that's just not right"
07/05/2021
Samuel
"Yet another great meal from this restaurant, fresh, hot and very tasty"
28/04/2021
Samuel
"We have always ordered from New Dorking Cantonese and NEVER had a bad meal, it's tasty and value for money. Highly recommend"
16/04/2021
Aziz
"Really tasty and fresh food. Satay sauce amazing. Thankyou, just what we needed following a busy day!"
11/04/2021
Menu
Crab Meat & Sweetcorn Soup
£4.20
Hot & Sour Soup (Peking Style)
£4.20
Tom Yam Soup (Thai Style Seafood)
£4.20
Beansprout Rice Vermicelli
£5.80
Singapore Rice Vermicelli
£6.20
Crispy Noodles Chicken with Black Bean Sauce
£8.30
Crispy Noodles Chicken with Ginger & Spring Onion Sauce
£8.30
Crispy Noodles Pork with Black Bean Sauce
£8.30
Crispy Noodles Pork with Ginger & Spring Onion Sauce
£8.30
Crispy Noodles Cantonese Style
Chicken, pork, prawn with gravy
£9.50
Chicken with Ginger & Spring Onion
£5.60
Chicken with Green Pepper in Black Bean Sauce
£5.60
Chicken with Bamboo Shoots & Water Chestnuts
£5.60
Chicken with Mixed Vegetables
£5.60
Chicken with Oyster Sauce
£5.60
Kung Po Spicy Chicken with Light Batter
£5.90
Chicken Wings with Salt & Chilli
£5.80
Chicken Wings (Peking Style)
£5.80
Chicken Wings with Marinade Sauce
£5.80
Chicken with Cashew Nuts in Yellow Bean Sauce
£5.90
Crispy Shredded Beef in Chilli Sauce
£6.30
Crispy Shredded Beef with Salt & Chilli
£6.30
Beef with Green Pepper in Black Bean Sauce
£6.30
Beef with Ginger & Spring Onion
£6.30
Beef with Mixed Vegetables
£6.30
Roast Duck with Ginger & Spring Onion
£6.90
Roast Duck (In One Tray) With Plain Rice
£8.90
Roast Duck (In One Tray) With Egg Fried Rice
£8.90
Roast Duck with Green Pepper in Black Bean Sauce
£6.90
Roast Duck with Mixed Vegetables
£6.90
Roast Duck (Chinese Style)
£6.90
Roast Duck with Pineapple
£6.90
Roast Duck with Plum Sauce
£6.90
Stir-Fried King Prawns with Satay Sauce
£6.90
Steamed Fresh Salmon Ginger & Scallions
£7.90
Steamed Fresh Salmon Black Bean Sauce
£7.90
Stir-Fried Scallops with Black Bean Sauce
£8.90
Steamed Mussels in Shell Ginger
£8.90
Steamed Mussels in Shell Black Bean Sauce
£8.90
Stir-Fried King Prawns in Garlic Sauce
£6.90
Stir-Fried King Prawns with Ginger & Spring Onion
£6.90
Stir-Fried King Prawns with Black Bean Sauce
£6.90
Stir-Fried King Prawns with Mixed Vegetables
£6.90
Stir-Fried King Prawns with Cashew Nuts
£7.20
Kung Po Spicy King Prawns
£7.20
Kung Po Spicy King Prawns with Light Batter
£7.20
Szechuan Spicy King Prawns
£6.90
Stir-Fried King Prawns with Oyster Sauce
£6.90
Deep Fried King Prawns with Salt & Chilli
£6.90
Mixed Seafood with Ginger & Spring Onion
£8.90
Mixed Seafood with Black Bean Sauce
£8.90
Deep Fried Squid with Salt & Chilli
£6.90
Stir-Fried Squid with Ginger & Spring Onion
£6.90
Stir-Fried Squid with Black Bean Sauce
£6.90
Stir-Fried King Prawn with Cashew Nuts
In yellow bean sauce
£7.20
Banana Fritters with Syrup
£3.90
Pineapple Fritters with Syrup
£3.90
Chicken Wings (Peking Style)
£5.80
Roast Pork with Cashew Nuts
£5.90
Roast Pork with Ginger & Spring Onion
£5.60
Roast Pork with Green Pepper in Black Bean Sauce
£5.60
Roast Pork with Oyster Sauce
£5.60
Roast Pork with Satay Sauce
£5.60
Roast Pork (Chinese Style)
£5.60
Roast Pork with Fried Rice
(in one Tray)
£8.90
Roast Pork with Plain Rice
(in one Tray)
£8.90
Roast Pork with Cashew Nuts in Yellow Bean Sauce
£5.90
Steak with Ginger & Spring Onion
£8.90
Steak with Black Pepper Sauce
£8.90
Sweet & Sour King Prawns (Hong Kong Style)
£6.90
Sweet & Sour King Prawns in Batter
£6.90
Sweet & Sour Chicken (Hong Kong Style)
£5.60
Sweet & Sour Chicken Balls
£5.60
Sweet & Sour Pork (Hong Kong Style)
£5.60
Deep Fried Onion Chicken
Served with sweet & sour sauce & onion rings
£5.90
Chicken Slices (in Batter)
£5.80
Sweet & Sour Mix (Hong Kong Style)
King prawns, chicken & pork
£6.90
Special Tomato Egg (No Beansprouts)
£5.90
Stir-Fried Mixed Vegetables
£5.00
Stir-Fried Mixed Vegetables with Cashew Nuts
£5.50
Stir-Fried Broccoli With Black Bean Sauce
£5.00
Stir-Fried Broccoli With Black Pepper Sauce
£5.00
Stir-Fried Bamboo Shoots & Water Chestnuts
£5.00
Ma Po Tofu with Hot Spicy Sauce
£5.60
Deep Fried Beancurd with Garlic & Spicy Salt
£5.60
Stir-Fried Beancurd with Oyster Sauce
£5.60
Stir-Fried Beancurd with Vegetables
£5.60
Thai Green Curry King Prawns
Famous spicy curry with green chillies, coconut milk, bamboo shoots & lime leaves
Vegetables - Suitable for vegetarians
£7.30
Thai Green Curry Chicken
Famous spicy curry with green chillies, coconut milk, bamboo shoots & lime leaves
Vegetables - Suitable for vegetarians
£6.60
Thai Green Curry Beef
Famous spicy curry with green chillies, coconut milk, bamboo shoots & lime leaves
Vegetables - Suitable for vegetarians
£6.80
Thai Green Curry Vegetables
Famous spicy curry with green chillies, coconut milk, bamboo shoots & lime leaves
Vegetables - Suitable for vegetarians
£5.60
Thai Red Curry King Prawns
Thai hot red curry with red chillies & coconut milk, flavoured with sweet basil leaves
Vegetables - Suitable for vegetarians
£7.30
Thai Red Curry Chicken
Thai hot red curry with red chillies & coconut milk, flavoured with sweet basil leaves
Vegetables - Suitable for vegetarians
£6.60
Thai Red Curry Beef
Thai hot red curry with red chillies & coconut milk, flavoured with sweet basil leaves
Vegetables - Suitable for vegetarians
£6.80
Thai Red Curry Roast Duck
Thai hot red curry with red chillies & coconut milk, flavoured with sweet basil leaves
Vegetables - Suitable for vegetarians
£7.30
Thai Red Curry Vegetables
Thai hot red curry with red chillies & coconut milk, flavoured with sweet basil leaves
Vegetables - Suitable for vegetarians
£5.60
Oriental Special King Prawns
Fried with green & red peppers, onions, oriental ingredients & sauce with lime
Mild hot
Vegetables - Suitable for vegetarians
£7.30
Oriental Special Chicken
Fried with green & red peppers, onions, oriental ingredients & sauce with lime
Mild hot
Vegetables - Suitable for vegetarians
£6.60
Oriental Special Beef
Fried with green & red peppers, onions, oriental ingredients & sauce with lime
Mild hot
Vegetables - Suitable for vegetarians
£6.80
Oriental Special Vegetables
Fried with green & red peppers, onions, oriental ingredients & sauce with lime
Mild hot
Vegetables - Suitable for vegetarians
£5.60
Pad Talay
Mixed seafood with Thai herbs, fresh chillies, tomatoes & onions
Mild hot
£8.80
Thai Crispy Fillet With Mango Kerabu Chicken
Thai sweet & sour sauce with mango, cucumber, onions & shredded red chillies
£6.90
Thai Crispy Fillet With Mango Kerabu Fish
Thai sweet & sour sauce with mango, cucumber, onions & shredded red chillies
£6.90
Rendang King Prawns
Traditional Malaysian curry cooked with coconut juice & skimmed milk
£7.30
Rendang Chicken
Traditional Malaysian curry cooked with coconut juice & skimmed milk
£6.60
Rendang Beef
Traditional Malaysian curry cooked with coconut juice & skimmed milk
£6.80
Stir-Fried with Sambal Spiced Sauce King Prawns
Fried with green pepper, onions & special hot sauce
£7.30
Stir-Fried with Sambal Spiced Sauce Seafood
Fried with green pepper, onions & special hot sauce
£8.80
Stir-Fried with Sambal Spiced Sauce Chicken
Fried with green pepper, onions & special hot sauce
£6.60
Stir-Fried in "Hong Xiu Sauce" Mixed Meat
Shanghai famous savoury temptation sauce with Chinese cabbage, carrots, onions, mange tout, beancurd & Chinese mushrooms
£8.60
Stir-Fried in "Hong Xiu Sauce" Fish Fillet
Shanghai famous savoury temptation sauce with Chinese cabbage, carrots, onions, mange tout, beancurd & Chinese mushrooms
£8.60
Stir-Fried Ho Fun (Flat Noodles) (Dry) King Prawns
£6.90
Stir-Fried Ho Fun (Flat Noodles) (Dry) Beef
£6.60
Stir-Fried Ho Fun (Flat Noodles) (Dry) Chicken
£6.60
Pad Thai King Prawns
Thai style fried flat noodles with beansprouts, peanuts, eggs & tamarind sauce
Vegetables - Suitable for vegetarians
£7.30
Pad Thai Chicken
Thai style fried flat noodles with beansprouts, peanuts, eggs & tamarind sauce
Vegetables - Suitable for vegetarians
£6.60
Pad Thai Vegetables
Thai style fried flat noodles with beansprouts, peanuts, eggs & tamarind sauce
Vegetables - Suitable for vegetarians
£5.60
Stir-Fried Udon Noodles (Japanese Noodles) King Prawns
Vegetables - Suitable for vegetarians
£7.30
Stir-Fried Udon Noodles (Japanese Noodles) Chicken
Vegetables - Suitable for vegetarians
£6.60
Stir-Fried Udon Noodles (Japanese Noodles) Vegetables
Vegetables - Suitable for vegetarians
£5.60
Mee Goreng (Noodles)
A famous Indonesian speciality of stir-fried noodles with shrimps, chicken & vegetables, topped with crispy shallots
Mild hot
£6.50
Nasi Goreng (Rice)
A famous Indonesian speciality of stir-fried rice with shrimps, chicken & vegetables, topped with crispy shallots
Mild hot
£6.50
Thai Fried Rice
A famous Thai speciality of stir-fried rice with shrimps, chicken, pineapple, raisins & spicy sauce
£6.50
Oriental Spicy Crispy Chicken
Lightly battered chicken cooked with special hot sauce
Mild hot
£6.50
Special Singapore Curry King Prawns
Medium hot spices, tomatoes, red pepper, coconut juice & skimmed milk
£7.30
Special Singapore Curry Chicken
Medium hot spices, tomatoes, red pepper, coconut juice & skimmed milk
£6.60
Special Singapore Curry Beef
Medium hot spices, tomatoes, red pepper, coconut juice & skimmed milk
£6.80
Traditional Pork Belly (in One Tray) With Plain Rice
£10.30
Traditional Pork Belly (in One Tray) With Fried Rice
£10.30
For 2 Persons
Sesame prawn on toast
Crispy seaweed
Crispy aromatic duck (Served with pancakes, cucumber, spring onion & hoi sin sauce)
Kung po king prawns (in spicy sauce)
Stir-fried chicken with green pepper in black bean sauce
Stir-fried beef with oyster sauce
Special fried rice
Prawn crackers
£34.80
For 2 Persons
House special hors d'oeuvres (Sesame prawn on toast, peking spring rolls, spare ribs, satay chicken on skewers & crispy won ton)
Crispy aromatic duck (Served with pancakes, cucumber, spring onion & hoi sin sauce)
Stir-fried chicken with cashew nuts
Crispy shredded beef with chilli sauce
Stir-fried mixed vegetables
Special fried rice
Prawn crackers
£37.80
Supreme Set Special F1 For 4 Persons
House special hors d'oeuvres (Sesame prawn on toast, peking spring rolls, spare ribs, seaweed, satay chicken on skewers & crispy won ton)
Crispy aromatic duck (1/2 for 4 persons) (Served with pancakes, cucumber, spring onion & hoi sin sauce)
Fried chicken slices (in batter)
Stir-fried king prawns with green pepper in black bean sauce
Kung po chicken
Crispy shredded beef in chilli
Sweet & sour pork (Hong Kong style)
Stir-fried mixed vegetables with cashew nuts
Special fried rice (2 for 4 persons)
Prawn crackers (2)
£68.80
Supreme Set Special F1 For 6 Persons
House special hors d'oeuvres (Sesame prawn on toast, peking spring rolls, spare ribs, seaweed, satay chicken on skewers & crispy won ton)
Crispy aromatic duck (1/2 for 4 persons) (Served with pancakes, cucumber, spring onion & hoi sin sauce)
Fried chicken slices (in batter)
Stir-fried king prawns with green pepper in black bean sauce
Kung po chicken
Crispy shredded beef in chilli
Sweet & sour pork (Hong Kong style)
Stir-fried mixed vegetables with cashew nuts
Special fried rice (2 for 4 persons)
Prawn crackers (2)
£88.80
Supreme Set Special F1 For 8 Persons
House special hors d'oeuvres (Sesame prawn on toast, peking spring rolls, spare ribs, seaweed, satay chicken on skewers & crispy won ton)
Crispy aromatic duck (1/2 for 4 persons) (Served with pancakes, cucumber, spring onion & hoi sin sauce)
Fried chicken slices (in batter)
Stir-fried king prawns with green pepper in black bean sauce
Kung po chicken
Crispy shredded beef in chilli
Sweet & sour pork (Hong Kong style)
Stir-fried mixed vegetables with cashew nuts
Special fried rice (2 for 4 persons)
Prawn crackers (2)
£108.80
For 1 Person
Chicken with black bean sauce
Sweet & sour chicken balls (4)
Egg fried rice
£8.90
For 2 Persons
Satay chicken on skewers (served with satay sauce)
Sweet & sour pork (Hong Kong style)
Stir-fried chicken with cashew nuts
Stir-fried king prawns with green pepper in black bean sauce
Special fried rice
£24.80
For 2 Persons
Barbecued spare ribs
Sweet & sour chicken
Stir-fried beef with green pepper in black bean sauce
Stir-fried king prawns with mixed vegetables
Special fried rice
£26.80
Dim Sum Combo (Minimum for 2) Prawn
£5.00
House Special Hors D'oeuvres (Minimum for 2)
Sesame prawn on toast, veg spring rolls, spare ribs, seaweed, satay chicken on skewers & crispy won ton with sweet & sour sauce
£9.80
Crispy Fragrant & Aromatic Duck 1/4 Duck with 6 Pancakes
Served with pancakes, cucumber, spring onion & hoi sin sauce
£9.80
Crispy Fragrant & Aromatic Duck 1/2 Duck with 12 Pancakes
Served with pancakes, cucumber, spring onion & hoi sin sauce
£17.50
Crispy Fragrant & Aromatic Duck Whole Duck with 24 pancakes
Served with pancakes, cucumber, spring onion & hoi sin sauce
£33.50
Crispy Fragrant & Aromatic Lamb With Pancakes
Served with pancakes OR lettuce, cucumber, spring onion & hoisin sauce
£9.90
Crispy Fragrant & Aromatic Lamb With Lettuce
Served with pancakes OR lettuce, cucumber, spring onion & hoisin sauce
£9.90
Lettuce Wraps
Delicately seasoned minced chicken & vegetables, served with lettuce
£7.80
Satay Chicken on Skewers (4)
£5.80
Satay Mixed Vegetables on Skewers (4)
£5.30
Satay King Prawns on Skewers (4)
All satays are served with satay sauce
£7.80
Deep Fried King Prawns in Breadcrumbs
£7.20
Tempura King Prawns
Served with special sauce
£7.80
Deep Fried Chicken in Breadcrumbs
£6.20
Deep Fried Chicken with Salt & Chilli
£6.20
Spare Ribs with Salt & Chilli
£6.90
Spare Ribs with Peking Sauce
£6.90
Vegetarian Grilled Dumplings
£5.50
Vegetarian Spring Rolls (Peking Style)
£4.90
Crispy Meat Rolls (Peking Style) (6)
£5.30
Dim Sum Combo (Minimum for 2) Minced Pork Dumplings
£5.00
Contact Us
Find Us
96 South Street, Surrey, RH42EW
We deliver to
KT20, KT22, KT23, RH3, RH4, RH5